Guided, Self-guided and Bespoke trips
For people who value having a local guide, we do guided trips using our own routes. These are made with small groups, allowing us to provide an exclusive service and reduce our environmental footprint.
If you're an independent type of traveller, we also organise self-guided trips for people who like to do things at their own pace. 
For the ultimate level of personalisation, we do bespoke trips meeting the requirements of each individual guest or group.
Whatever the option, we take care of all the aspects of the trips to ensure you have a memorable experience. With our knowledge of the country we can suggest the best routes and places of accommodations with the level of service only a local can provide.
In our camping tours, we privilege eco-friendly campsites as wild camping is legally forbidden here in Portugal. We also use charming B&B's or small hotels with a "wow factor" where guests can enjoy the local culture in total comfort and style.
Whether you want to join one of our guided trips or go for a tailor-made experience, just contact us for more details.
Travel Planning and Preparation
As part of our offer, we provide a complete set of services to our guests from the moment they contact us to the time they return home.
When you book with us, these are the services we can provide which are included in the cost of every trip:
Mandatory legal permits and permissions
Tour planning, scouting and guidance
Information about the country, culture, gastronomy and heritage of each region
Logistic support during the whole trip
Booking of accommodation and places where to sample the local cuisine
Booking of outgoings and bespoke experiences
Useful information about health, safety and local laws and regulations
Public liability and personal injuries insurance policies
Contact with specialised workshops and main dealers
Help with the acquisition and delivery of spare parts
Assistance with the transport of people and vehicles
24/7 Helpline
 and much, much more…
Media Trips and Location Scouting
After many years of driving across Portugal, we have accumulated a deep knowledge of the country. As a result, we have hundreds of kilometres of off-road tracks, and a portfolio of landscapes and places of interest suitable for media productions.
Based on this experience, we provide media professionals with the assistance they need for their projects, from the scouting stage to the logistic support during the field work.
Contact us to know the most stunning places and landscapes in Portugal that will turn your production into a success.
Portugal is just a few hours away from most European countries, which makes it a great  destination for adventure trips.  If you don't want to drive just to get here, we have a partnership with Hertz® for the rental of vehicles*. This service will let you enjoy Portugal's wonders in total comfort and freedom.
If you want to go car car camping**, the Hertz CAMPERS® vehicles come with a roof tent and other accessories that will make your trip an adventure. We'll also provide a GPS device containing the route, to ensure you don't worry about the navigation.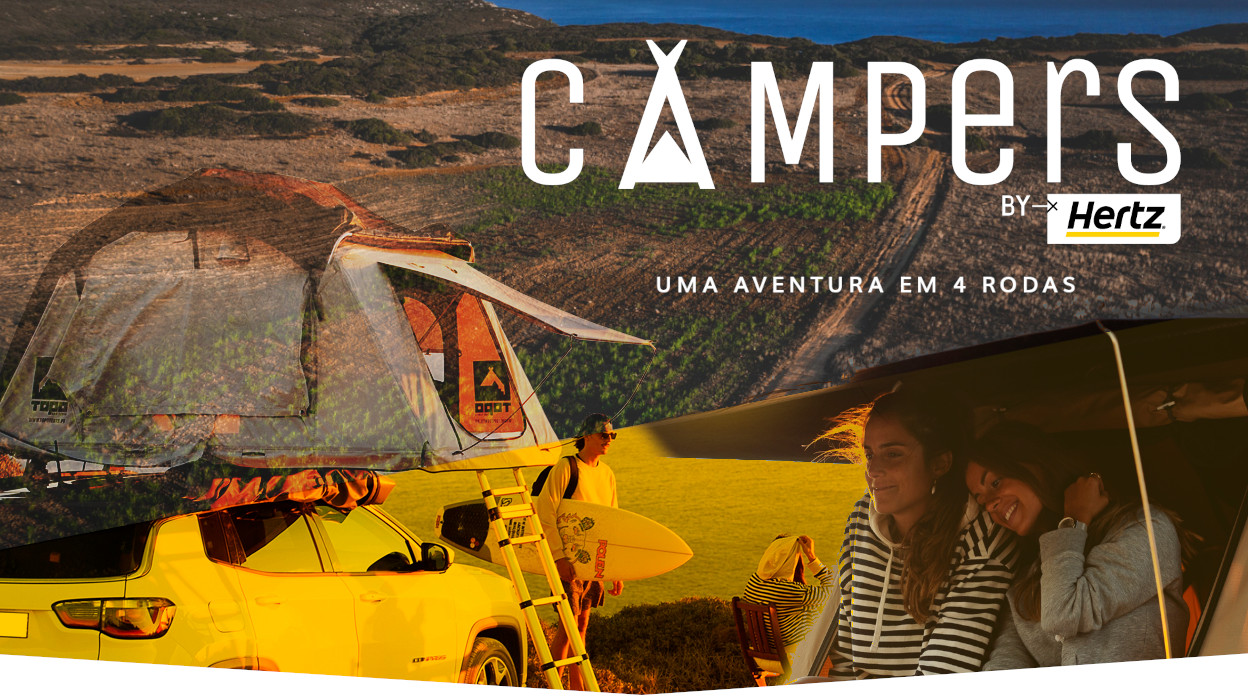 These trips are based in Lisbon, Porto and Faro airports with the vehicles ready to go. At the end of the trip, you just have to return the vehicle before boarding your flight.
The tracks were previously recced by us to confirm they're safe and legal to drive. For your comfort and safety, we will provide the information you need for your trip, in full respect for the local regulations, people and the environment.
Get your plane ticket now and contact us for more information about this service.
* Vehicles can be SUV's or Pick-up trucks (subject to availability)
** Camping is at selected authorised campsites, as wild camping is legally forbidden in Portugal.